Liu Pingguo (apple), a masseuse working in a foot massage parlor in Beijing, China's capital. Like millions of migrant workers coming from rural China, she expects to lead a good life in the city by hard work and she is happy to also have her husband's support. She is raped by the general manager of the massage parlor one day and worse the rape takes place while her husband is watching from outside working as one of the high-rise window cleaning crew. Worse still she soon realizes that she is pregnant; she thus finds herself in the middle of a tug of war between two men, her husband demanding the monetary compensation for the rape and the proprietor of the massage parlor more interested in the custody of the baby he believes his. Disappointed by both men who don't respect her as a woman with a mind of her own, she leaves Beijing to give birth at her hometown.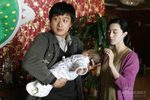 An Kun, Xingguo's husband, living in a crummy apartment in Beijing with his wife; he works with a window cleaning crew to support family. After Pingguo is raped, An Kun confronts the rapist requesting a 20,000 compensation as a condition for him not to sue him. As a lowly migrant worker, An Kun sees his wife's rape as an economic opportunity to gain reparation, which is consistent with his view of his wife as his property. He pursues the matter rigorously until he realizes that he is the biological father of the baby Pingguo carries. To optimize the outcome of this terrible situation, he bribes the doctor to falsify the medical information on the baby's birth certificate so that the blood type becomes that of the rapist.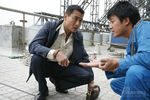 Mr. Lin Dong, the proprietor of the Golden Basin Foot Massage Parlor in Beijing, is well off; he is the emblem of China's post-socialist success and defines it with his financial success, owner of a Mercedes Benz and an opulent apartment in Beijing. But he feels empty without children because his wife is barren. As a man with a deep pocket, he finds fulfillment in making money, in prostitution and in work as a manager. This is why he, after the rape, changes from feeling dismissive and indifferent when An Kun tries to blackmail him to feeling compassionate and concerned when told that he is the biological father of Pingguo's baby. Over the objection of his wife, he promises to pay the rape victim and An Kun 100,000 if he could have the custody of the baby.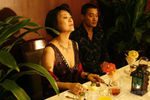 Wang Mei, Mr. Lin's wife, is estranged from her husband because she is unable to give him a son or daughter; she is also owner of a beauty salon in Beijing; what her husband does to Pingguo, followed by his seeking the custody of the baby, turns out to be the last straw to her. She confronts him and becomes all the most convinced of his sexual infidelity when he denies any wrongdoing on his part. When Pingguo is brought to live with her and her husband, she couldn't bear it anymore, demand half of their assets if he should have more to do with Pingguo. However, she is conflicted when it comes to Pingguo in whom she sees not only a love rival but also a fellow victim of a patriarchal and phallocentric system that disenfranchises women politically and culturally.
Xiao Mei, a close friend of Pingguo, also works as a masseuse in the same place where Pingguo does; she goes through a personal transformation from a young girl troubled and emotionally disturbed by constant sexual harassment in the workplace to a flirt who demands and accepts gifts from male patrons having their way with her. She is killed in the street by an assailant who wants to rob her.